As a child of the 70s and early 80s, I was raised on action comics and cartoons. My older brother was a huge fan of the Marvel™ and DC™ universes. As his baby sister, desperate for his attention and any opportunity to not get kicked out of his room, I immersed myself into all things superhero-related. I was then allowed access to the inner sanctum (my brother's bedroom) provided I didn't talk too much. Yeah, I still got kicked out a lot.
But over time I grew to really enjoy these characters and their adventures. I admired the powers of Superman, the sarcastic wit of Spiderman, the brute strength of the Hulk. The Fantastic Four, The Justice League, Batman and Robin (and Batgirl) – I loved them all. I was, however, particularly drawn to two characters, one from each franchise interestingly enough: Sue Storm/Richards aka the Invisible Girl (Marvel™) and Diana Prince aka Wonder Woman (DC™).
Sue had the ability to make herself disappear, hence the whole Invisible Girl title, obviously. I wanted that so much. It wasn't like I didn't want anyone to see me, but to be able to slip in and out of rooms and situations without being noticed seemed so cool to me. I wanted access to secret conversations, closed door meetings, back room dealings, and every other cliché imaginable. I wanted to know the truth.
Of course, no one could get to the truth better than Wonder Woman. As a side note, she too had invisibility powers. She had an invisible jet. I must say that always just seemed downright dangerous to me. Her plane was invisible! This means that no one, including pilots, birds, etc could see it! Am I the only one who envisioned some catastrophic in-flight incident? And when they'd go to check the black box that records everything, that wouldn't help because her plane is invisible! Picture it – the aircrew is flying along minding their own business when suddenly WHAM! They're in a tailspin, calling in a mayday, people are screaming, oxygen masks are dropping from the ceiling; it's chaos. Meanwhile, Wonder Woman in her invisible plane jumps out to safety. She'd even probably have to stop the other plane from crashing into the ocean or a nearby mountain. Then as the saved passengers take turns thanking her for rescuing them, someone asks, "What happened?" The bewildered pilot replies, "I don't know. We hit something. But there was nothing there. I swear. There was nothing there." Wonder Woman might have to beat a hasty retreat at that point.
But I digress.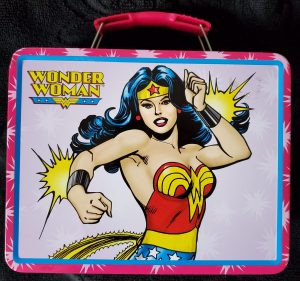 What I wanted more than anything was Wonder Woman's lasso of truth. If you don't know, she would literally throw this golden rope around someone and they would be forced to tell her the truth. I want that! Can you imagine the possibilities? I'm not speaking of doing something nefarious with it like using it to get the combination to a safe loaded with gold bullion or anything. I'm talking about preventing someone from lying. Just think how different things would be in this world if, for example, politicians and people in power were tied up with that beautiful, golden thread and made to speak only the truth.
Sadly, my dream of having a lasso of truth was never realized. But what I learned from reading the Bible is that there is a belt of truth. Don't believe me? Good. Don't take my word for it; check out the verse:
Therefore, put on the full armor of God, so that when the day of evil comes, you may be able to stand your ground, and after you have done everything, to stand. Stand firm then, with the belt of truth buckled around your waist, with the breastplate of righteousness in place, and with your feet fitted with the readiness that comes from the gospel of peace. (Ephesians 6:13-15 NIV, biblegateway.com, emphasis added)
We've got access to a belt of truth! But one may ask, "Whose truth? Yours? Mine?" Believe it or not, there are objective, universal truths. These form the foundation of society, of its morals and conduct. Though the current trend seems to be to move away from objective truth and embrace more subjective ones, which by extension means relying more on emotions or opinions rather than facts, the Bible defines truth in this verse:
Jesus answered, "I am the way and the truth and the life. No one comes to the Father except through me. (John14:6 NIV, biblegateway.com, emphasis added)
Does this mean that I'm supposed to wear a Jesus belt buckle?
No, it does not.
The Word of God, the Bible, is where the Truth is found. It's where you can learn about God and His Son Jesus. You can then choose whether or not to invite Him into your life, your heart. The choice is always yours. What I can assure you of is that should you choose to make that commitment, He can then send the Holy Spirit. This is an absolute game-changer. The Holy Spirit is the greatest superpower there is. I often give the warning to others that lies don't last too long around me. With the help of the Holy Spirit, the truth always comes out. The best part is that it usually happens with little to no effort from me. Some might even call it divine intervention. I just call it my secret weapon. But that's a subject for another time.
Hope you enjoyed this post, and remember, don't go out without your belt buckled. And stay away from invisible planes, if you can. Of course, they're invisible, so how can you avoid them?
Until next time, stay happy, stay healthy, stay in the know.
Look forward to hearing from you.
-Kat