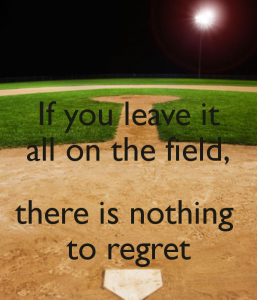 If you've ever played a sport or been part of a team, you may have heard this phrase or a variation. It means to go out and give it your all. Do your very best. Try your hardest. Spare no effort.
But what happens when you give it your all and you don't win.
How do we handle when we've done all the prep work and we've given it our best shot, and we lose? We don't get the promotion or win the game. The goal we had our heart set on eludes us.
Now what?
In springtime I can often be found in the stands watching college baseball. I have a family member who plays. I recently mentioned to him that this week's blog topic was inspired by watching him and his team over the past couple of months. When I brought up the part about how to handle a defeat or a loss, he was quick to note how you go back out the next day and do it again. Sounds like the phrase: "If at first you don't succeed, try, try again."
I agree with the sentiment but if I'm being honest (and I try to be), it's the application of it where I fall short. How about you?
How do you process a setback or an outright defeat?
My first instinct is usually to run for comfort food and wallow. I lick my wounds and commiserate with myself over my misfortune. I might harbor some envy for anyone who's achieved what I didn't. I might rail about how it's not fair and I deserved to win. In short, I throw myself a good, old fashioned pity party.
All this serves to do is keep me stuck. If I'm spending time in resentment, regret, confusion, discouragement, I'm not moving forward. If I stay here too long, I'll talk myself out of ever trying again. What's the point? What's the use?
When a team is on a winning streak, energy is up. It's all about keeping the streak going. The team can go one of two ways: either get a little too cocky and start to slack off or dig even deeper because they realize the streak may end at any moment. In either case spirits are high, and it doesn't take much to get and keep the team motivated.
But when a team is in a slump, when they haven't won a game in a while, herein lies the challenge. With each loss, individual and team confidence can drop. In this situation there are two ways to go as well: believe they'll never pull out of the slump and it's over or dig deeper and realize it will end and today might be the day. It's much harder to get excited and hyped when you're feeling low and beaten.
You need to have something to give before you can leave it all on the field.
I believe it needs to be more than a desire to win or succeed. I'm not against those drives per se, but for me it's always more about the why of the what. Why do you want to win or succeed? Is it just for yourself? Is it to prove you could do it? Is it to boast or brag? Is it for the temporary rush? Is there a financial gain to be made?
These are all reasons. But there is a greater calling which should infuse everything we do. You know I brought receipts. (Any and all bible verses, unless otherwise indicated, are from biblegateway.com, NIV, emphasis added.)
So, whether you eat or drink or whatever you do, do it all for the glory of God. (1 Corinthians 10:31)
And whatever you do, whether in word or deed, do it all in the name of the Lord Jesus, giving thanks to God the Father through him. (Colossians 3:17)
As Christians we are called to do everything to glorify God. Does that include giving our all win or lose? Yup. Every single time? Yup yup.
A sluggard's appetite is never filled, but the desires of the diligent are fully satisfied. (Proverbs 13:4)
This verse is pretty self-explanatory. Laziness won't get you very far. Being diligent, prepared, doing the work matters. Consistency and steadfastness help position you for success.
Whatever you do, work at it with all your heart, as working for the Lord, not for human masters, (Colossians 3:23)
Imagine God as your boss or coach. Would we conduct ourselves differently if we were directly reporting to him at the end of each day? I certainly would. I'm learning to internalize my daily accountability to him. Before I lose my mind because things didn't go the way I wanted, I try to slow down. (I don't always get there, but we're all works in progress.) As I realize more and more how my life is a representation of him to a lost world, I'm challenged to come up higher, to do better, to leave it all on the field.
Let us not become weary in doing good, for at the proper time we will reap a harvest if we do not give up. (Galatians 6:9)
Let's not get this verse twisted. We don't do good because we will reap the harvest. We do good because it's right. When we give it our all, we may not win, but we have still done the right thing. In time, God is so faithful, He will bless us. But that shouldn't be the reason we continue to try. If we're motivated to do because of what we'll get, we're in the wrong mindset.
Commit to the Lord whatever you do, and he will establish your plans. (Proverbs 16:3)
I'm closing with this verse because I believe it's an important key to this whole topic. Before we prep, before we go out and give it our all, we need to commit whatever it is to God. If we're on a team, we should commit our involvement with it to him first. If we're going for career or personal advancement, we need to commit it to him first.
We can have dreams, aspirations, plans. He establishes. Commit to him and then go out and leave it all on the field.
Until next time: stay happy, stay healthy, stay in the know.
Look forward to hearing from you,
-Kat