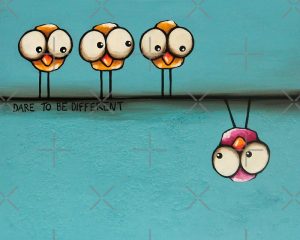 I was a teenager in NY in the 1980s. In high school my favorite radio station was WLIR 92.7 FM. There may be some of you reading this who can't imagine a time before Sirius XM, Spotify, Pandora, or any of 1,000 different music platforms. But such a time existed, and it was glorious!
The tagline for LIR (as we in the know called it) was "Dare to be different." They were instrumental in ushering in the New Wave music revolution. They showcased artists that most pop and rock stations wouldn't even touch. They challenged the programming status quo, and they were successful. They tapped into, and some might even say, helped create a whole new market. People like me did more than just listen to the songs on the radio. We went out and bought the artists' albums or tapes. (I'm not sure CDs even existed back then. If they did, they were incredibly expensive. But I digress.)
The station took a huge risk changing their format. I, for one, am so grateful they did.
But what does an 80s radio station's programming decisions have to do with today?
I'm so glad you asked. As a teenager, every time I listened to LIR, I felt like a rebel. This wasn't my parents' music or even my sisters' or brother's. This was mine. I was on the leading edge. My siblings would eventually know about some of the artists, but that was months or years later. I was already a devoted fan. I was the trailblazer.
Honestly, after my teen and college years, I thought I was done with going against the grain. Yet even though it's been forty years since I first tuned into LIR, I find myself embracing my inner rebel once more. I never thought I'd resurrect it, but when the world I live in began turning its back on everything I hold dear, I had to say something.
I had to dare to be different.
In 2023, it is astounding to me that values such as love of God, family, and country are viewed as harmful, dangerous, etc.
When up is down and right is wrong, what will you do?
I've been a Christian for over 25 years. That's not a humble brag; it's more of a confession. Over two decades ago, I realized there was a God, and I wasn't Him. I had been raised with religion, but now I was having my own personal relationship with the Lord. This meant I started reading the Bible more. It meant studying and praying. And as my time with the Lord increased, my desire to stay the same decreased.
It didn't happen overnight. In fact, it's been an ongoing process. But little by little I developed an inner conviction which would frequently stop me from doing something foolish. At the very least, it ensured that if I did do something foolish, I was quick to repent and not repeat the mistake. In no way have I gotten it right all the time, or even three-quarters of the time.
I think God made sure His mercies are new every morning specifically with me in mind. He knew I was definitely going to use up each day's supply.
I didn't want to be a renegade.
Who wants to rebel in their 50s? There may be a few people out there, I suppose. But I was never meant to be one of them. These are supposed to be the years where I'm settled. I'm supposed to be moving along in my career and looking ahead to retiring. I'm not saying I should be slowing down, but I should be able to take my foot off the gas a little bit.
I realized I can't. And if you're someone who doesn't agree with what's happening in this world, you can't either.
I'm sorry to have to be the one to break the news to you.
In the early days of this global shift in truth and morality, most of us weren't active. It was subtle, and we didn't want to make a big deal about seemingly minor issues. So, we made small concessions, compromises. Little did we know that with each go-along-to-get-along moment we were chipping away at the very core, the very heart of humanity.
Does that sound hyperbolic? Perhaps. But when child mutilation is now framed as gender-affirming care, abortion is now reproductive rights, and pedophiles are minor-attracted people, how else can you put it? There is an evil agenda at play. And I daresay that many engaged on the side of it aren't even aware of its existence. The deception is real. The lie has become the truth. Love has become equated with acceptance. If you don't accept, then you don't love.
Nothing could be further from the truth.
My parents loved me, but they were never going to accept any unhealthy behaviors as a sign of their love. No, they loved me enough to let me hate them as they brought Godly correction. I'm here today by the grace of God and their love.
The time has come to stand up.
We can't be silent any longer. I'm not in any way suggesting taking violent action, but we need to be vocal and stand up for what, deep in our hearts, we know to be right, to be true. For instance, men are not women; women are not men. We are not interchangeable. It doesn't matter what procedures you get, or what hormones you take, you will never be a different gender.
I am sorry if that hurts anyone's feelings, but in my opinion, it is catering to feelings that has reeked so much havoc. The evidence simply doesn't support that constant affirmation in all areas helps anyone. Truth must be truth. Our young people are more depressed, confused, and anxious than ever. And yet they're the most affirmed generation.
Love is not demonstrated by blind affirmation.
It is shown when truth is presented even when it's in opposition to what feels good. Truth presented in love is what matters. This does not mean I'm suggesting a parent reject a child. You should love your child unconditionally. But when their choices are going to lead to harmful, life-altering decisions, you must intervene. It is not the government's job, it's ours. We must try.
God told us we would have to stand against this world.
Don't believe me? Great. You know I brought receipts. (Any and all Bible verses, unless otherwise indicated, are from biblegateway.com, NIV, emphasis added.)
You adulterous people, don't you know that friendship with the world means enmity against God? Therefore, anyone who chooses to be a friend of the world becomes an enemy of God. Or do you think Scripture says without reason that He jealously longs for the spirit He has caused to dwell in us? But He gives us more grace. That is why Scripture says: "God opposes the proud but shows favor to the humble." Submit yourselves, then, to God. Resist the devil, and he will flee from you. Come near to God and He will come near to you. Wash your hands, you sinners, and purify your hearts, you double-minded. (James 4:4-8)
This verse is another one for the Ouch category. In simple terms, it's saying going along with the world means you're against the Lord! I've been guilty of embracing ideas or trends in the world, so in those times I was God's enemy. Yikes. If you love Him, that should sting. I know it does for me. (This is where I'm super grateful for His mercies being new every morning.) When you're double-minded, you know what God says, yet you go along with the world, even though it's opposed to His will. You have two minds about the situation, and you will fail.
There is a solution.
We need to humble ourselves before God and resist the devil. Wait a minute. Didn't it just say we were being friends with the world? How did the devil get into the mix? Well, because this world is his playground. So, as we embrace the world, we're in essence embracing the devil. You don't have to be a Satan worshipper to be aligned with him. Whenever we're world-minded and not God-focused, we're in danger. Whenever we accept something that we know God does not, we're in trouble.
Thankfully, there is hope. When we are humble before the Lord, resisting the devil, he flees. I suggest part of that resistance includes speaking out about what we know is ungodly in our world and culture today.
The world's messaging can be overwhelming.
I completely understand. We have non-stop access and exposure to the world's current craziness. God understands too. That's why He already gave us the fix. Check this out:
Do not conform to the pattern of this world, but be transformed by the renewing of your mind. Then you will be able to test and approve what God's will is—His good, pleasing and perfect will. (Romans 12:2)
How do we renew our mind? By unplugging from whatever the world is spewing forth and connecting with the Lord and His unchanging Word. Less time on social media, more time in the Bible, as an example. I can testify that when I spend less time scrolling and more time praising and worshipping, I'm in a healthier mindset. I am stronger in my ability to resist the temptations of the devil.
Let this verse encourage you.
For we are God's handiwork, created in Christ Jesus to do good works, which God prepared in advance for us to do. (Ephesians 2:10)
We were made by the Lord. He equips us for the fight.
It absolutely can feel intimidating to stand up against what seems like insurmountable odds. We may risk losing friendships, associations. We might be ostracized or excluded. I'm not saying it's going to be easy. But when I think about the alternative, I realize there is no other way. And just like a radio station that changed its programming, I've decided to change my own programming.
How about you?
I'll leave you with this. When you get nervous, say this verse aloud and remember:
I can do all things through Christ who strengthens me. (Philippians 4:13)
Until next time, stay happy, stay healthy, stay in the know. Stay a renegade.
Look forward to hearing from you.
-Kat