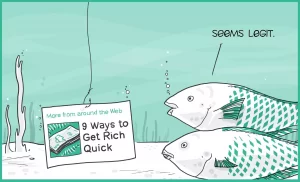 We've probably all been there. Minding our own business, innocently scrolling through social media or emails, then something catches our eye. It might be a curious headline or graphic. Could be a pic of a celebrity we like with a catchy tagline starting with "Did you know…" or something equally intriguing.
Before we know it, we've clicked and are now diving headfirst into a mindless waste of time and energy.
That intriguing headline claiming to have the ultimate answer to weight loss or eliminating wrinkles or even world hunger was the shiny lure on the fishing hook. After wading through pages and pages of content or sitting through an intolerably long and exceptionally uninformative video, you're left with…nothing. Let me correct myself. You may have the option to purchase a series of materials or join a program that will definitely give you the answers or results promised by the initial lure. You metaphorically wriggle yourself off the line before getting completely reeled in, but you now wear an invisible scar from your time spent on the proverbial hook. You swear you'll never fall for that trap again.
But sometimes the lure is just so irresistible, you have to go in for a closer look.
This time will be different. This time I'll learn who my favorite actor's secret child is. (Spoiler alert: this actually happened, and I did not. Turns out they just used his face as the poster child to get suckers like me to "click here to learn more.")
Click bait is just a contemporary version of "bait and switch." An example of this brand of scam would be if a business advertises refrigerators for an incredibly low price for a limited time. But when you get to the store, they have none of that kind left and do their best to upsell you a pricier model.
What happens when you are lured in with false promises in real life?
I'm not simply referring to a salesperson trying to get you to overspend on an appliance or vehicle. I don't just mean dating apps and other social media platforms where people can perpetuate a version of themselves which may not resemble who they actually are. I'm also talking about when someone we care about: a family member or friend, a trusted mentor or colleague fools us, lures us in with false hope or expectations, damaging our trust.
And what about perhaps the area of greatest significance, and the focus of this article, the most intimate and only eternal relationship you will ever experience?
Have you ever felt faith and relationship with God was just the greatest click bait scam of all time?
I understand.
What I will say to you is you weren't presented with true faith and relationship with God. Let me take a guess at how it was sold to you. "God is love. Just believe and everything will be all right. Just say this prayer with me and everything will change." You were drawn to this shiny lure, this promise of a better life. Before you knew it, you were flopping on the boat with a hook in your mouth (metaphorically, of course).
I said the prayer, and everything got worse! They lied to me. I was better off before all of this. I can't believe so-and-so treated me that way in church. They told me I'd be welcome there. It's all a scam. God isn't real. And if he is, he sure doesn't care about me!
The Bible isn't click bait. It's a lifeline.
Unfortunately, there are people and even organizations that use God as a means to an end. They say all the right things to get you, but don't have his heart to keep you.
God knows how imperfect we are and how we will disappoint one another. I believe it's one of the reasons he gave us his Living Word so we could read, study, and learn. It also gives us a place of accountability, a standard to be upheld.
Now let me share with you a real, yet very not shiny or pretty truth:
The day you accept Jesus is the last comfortable day of your life.
Can't take credit for that. The late Prophet Kim Clement spoke those words quite a few years ago. I remember it being a very sobering moment for me when I heard them. He knew we deserved to know the truth. And the truth is when you say "Yes" to the Lord everything does change, just not necessarily the way you think it will.
You may go through a honeymoon period where everything seems to be going your way. You're living in a kind of protected bubble or cocoon. That period may be short lived, or it may not happen at all. I can't tell you if it will or won't. What I can say with absolute certainty is your life will become uncomfortable.
God is love and He will never leave you or forsake you. Salvation is his free gift. Yet living out your faith in this life requires you working with him. Depending on what he brought you out of, you may need to change a little or a great deal. But if he loves me as I am, why should I have to change anything? You are loved and accepted as you are. But he sees all you could be, the best version of yourself, your fullest potential realized. He desires to help you see it too and, with the help of his Holy Spirit, make it a reality.
Don't let temporary discomfort deter you.
Growth is uncomfortable. Change can be uncomfortable. Those are simply basic facts of life independent from any spiritual context.
You may have times where things are going smoothly, seasons of blessing and prosperity. But my best advice is to never get too comfortable. I'm not suggesting you don't enjoy these times. I'm saying it's important to realize everything but God is temporary. Life changes.
I know how to be brought low, and I know how to abound. In any and every circumstance, I have learned the secret of facing plenty and hunger, abundance and need. I can do all things through him (Jesus Christ) who strengthens me. (Philippians 4:12-13)
I would love to say I'm right there with the Apostle Paul, but then I'd be a liar who lies. After many years, I'm learning to ride the waves without getting quite as seasick. (Sidebar: What is with me and all the ocean and fishing metaphors today? But I digress.)
There are plenty of scams in this world. Some even present themselves as faith or belief in the Lord. But just because it looks shiny and pretty, doesn't mean it isn't attached to something that can harm you. The best way to help safeguard against spiritual click bait is to read your Bible and pray for his wisdom and understanding. (And as a bonus, he might just give you the strength not to click to learn more about your favorite actress's secret obsession. It'll be up to you to choose whether you listen to him or not. Free will.)
Until next time: stay happy, stay healthy, stay in the know. And get used to being uncomfortable.
Look forward to hearing from you.
-Kat